Sammy Celebrates Living with Down Syndrome by Sharing Her Superpower with the World
Sammy is kind, active, and lives with Down syndrome. After fighting for her life when a rare virus attacked her heart in 4th grade, she lost her ability to walk. With the help of orthotic technology and support from her family and Gwen Ansier, CO, at Hanger Clinic, Sammy is back on her feet and thriving.
When Sammy was born, her parents, Marissa and Mitchell, did not know their baby girl had Down syndrome. They cried when the doctor first shared the news because they were worried she might have a difficult life. Then, they stopped crying and decided to celebrate instead, determined to do everything possible to make her life special. Little did they know that Sammy would be the one to make their lives more meaningful.
October is Down Syndrome Awareness Month
Every child has something special to offer the world. Find out more about Down Syndrome resources and support.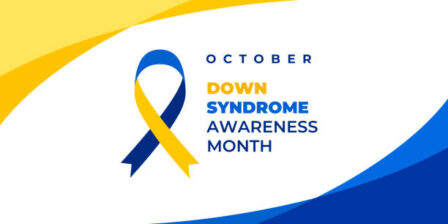 A Life-Threatening Illness
As Sammy grew up, she was in school, active, and living her best life with her parents, sister, and brother. Then during 4th grade in late 2016, she started to appear sick and lethargic. Sammy ended up at Lurie Children's Hospital of Chicago where doctors discovered a rare virus was attacking her heart. For two weeks, her family prayed for Sammy to live. At one point, she went into septic shock and her organs started to shut down, leaving her family feeling like they were in a bad dream.
In an effort to save Sammy, she was placed on an ECMO bypass machine. While the treatment was effective in helping Sammy, there were side effects. She experienced limb ischemia, or loss of blood in the hands and feet, which caused gangrene. This resulted in discoloration of her hands and damage to her feet. With the help of her medical care team and family, Sammy was able to avoid amputation to her feet. The recovery process was lengthy, and in the end, Sammy partially lost her toes and experienced damage to some of the muscles and bones in her right foot.
Walking with Orthotic Technology
In total, Sammy spent 85 days in the hospital and a rehabilitation facility. She was in a wheelchair as she started physical therapy. Then, she met Gwen Ansier, CO, at Hanger Clinic in Westchester, Illinois. Marissa said, "Gwen is kind and amazing. She makes Sammy laugh and is always trying to find the best orthotic solution for her. With an ankle-foot orthosis, Gwen helped Sammy get back to walking and encouraged her to do the activities she used to do and more.
We also live in a great community that came together to support Sammy. Her classmates, friends, and neighbors encouraged Sammy to get better and walk again. We are so blessed."
Sammy's Life Today
Sammy is now a sophomore in high school. She loves geometry, choir, hugs, cooking, walking, dancing, and being active. Sammy is also an ambassador for Children's Miracle Network/Lurie Children's Hospital, Ronald McDonald House Charities of Chicagoland & Northwest Indiana, Make-A-Wish Illinois, and a local celebrity as the co-founder of Bolingbrook Kindness Day. Her sister Jackie and brother Mitch wrote and illustrated the book Super Sammy to celebrate her life and the gift she is to the world. They hope this story will be a reminder to keep believing in faith, hope, and kindness even in the darkest of times.
Marissa shared, "Initially the medical team didn't think Sammy would live or walk. Now she is thriving. If Sammy was able to do it, you can too. Life is not always easy, but it can be a journey filled with many blessings, especially when you have support and care from people like Gwen at Hanger Clinic. There is hope, and anything is possible.
Sammy's goals are to go to college, play basketball, perform in a play as an actress, and own a restaurant. We should all see the world a little more like Sammy. Her superpower is kindness, and how she looks at things in a positive way. I wish we all could experience life like she does, in the moment, just enjoying it."
Request a Free Evaluation
If you or someone you love are looking for personalized care, get in touch with a board-certified orthotist at a Hanger Clinic near you.
Latest Updates
Subscribe to stay up-to-date on our latest posts.
View All