Closure Notice:
All Hanger Clinic locations will be CLOSED on Monday, January 17 in observance of Martin Luther King Jr. Day.
Upper Limb Prosthetics
Our upper limb specialists care for more patients than any other prosthetic provider, bringing world-class expertise and experience to a very specialized field.
Explore By:
We use advanced materials and designs to help restore mobility to people with any level of upper limb loss or limb difference. Learn what to expect based on your level of limb loss.
There are multiple options for prosthetic hands and hooks that offer different features and benefits. Your clinician will work with you to select the best option based on your individual needs.
There are many types of prosthetic elbows that can help restore mobility and function. Your clinician will work with you to select the best option based on your individual goals.
Patient Stories
Mary Terry
The Hero Arm not only enables me to pursue my passions like dancing and Zumba, it also makes ordinary tasks much easier, such as typing, opening doors, carrying laundry, and using both arms at once.
Read Her Story ›
Mary Terry
Billy Parker
My best advice is what my mom always told me as a kid: where there's a will, there's a way. If you want to get to the point where you're doing things on your own, you have to keep doing things, even if you need to take a break, whether for a few minutes or a few days, just keep coming back to it. Stay positive. Stay determined.
Read His Story ›
Billy Parker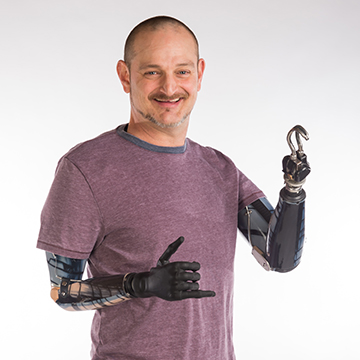 Giovanna Dubuc
We never needed to adapt. She figured everything out. Every day, she says 'I need to try something new.' It's amazing to see how she's growing and trying.
Read Her Story ›
Giovanna Dubuc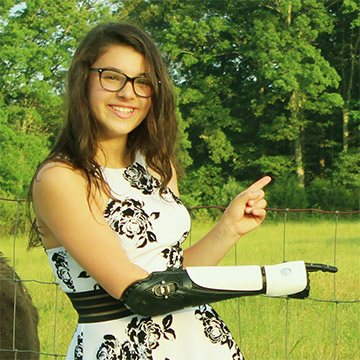 More Stories
Request a Free Evaluation
If you have questions or are ready to talk about prosthetic options, schedule a consultation at a clinic near you.