Search Library
Treatment
Lower Limb Bracing
Designed to enhance mobility, improve alignment, correct abnormal walking patterns, and protect and support your child's bones and muscles.
Hanger Clinic Pediatric Orthotic Specialists
Our team of Pediatric Orthotic Specialists works with children ranging in age from infancy to young adulthood and offers a full range of lower limb bracing solutions addressing the unique needs of each child.
Treatment options range from sports orthoses for young athletes to specialty orthoses to help treat a variety of neuromuscular and orthopedic disorders including cerebral palsy, muscular dystrophy, and down syndrome.
Our clinical experts work closely with you, your referring physician, and your loved ones to help your child achieve their mobility goals.
Bracing Overview
Depending on your child's condition, and their treatment goals, a lower limb brace may be used to enhance mobility, improve alignment, correct abnormal walking patterns, protect and support your child's bones and muscles, and help achieve their goals.
The Orthotist's Role in Your Child's Care
The orthotist (the clinician who designs and fits the brace) will work closely with your child's physician and other key members of the healthcare team (therapists) to recommend the best solution for your child based on their individual needs and specific condition. The role of your orthotist is to provide your child with the necessary care, tools, and support to empower their potential.
Bracing Options
Bracing options range in level of support and will be determined by your child's orthotist in conjunction with their broader care team (therapists, physicians, etc.). Some prevalent conditions treated with lower limb orthoses include toe walking, clubfoot, cerebral palsy, muscular dystrophy, Down syndrome, spina bifida, Charcot Marie Tooth (CMT) disease, foot drop, and more.
Foot Orthoses (FO) /
Shoe Inserts
Designed to support the foot under arch to reduce collapse.
Sumpramalleolar Orthoses (SMO)
Designed to support the foot just above the ankle bone. Controls alignment of the foot while allowing free ankle motion.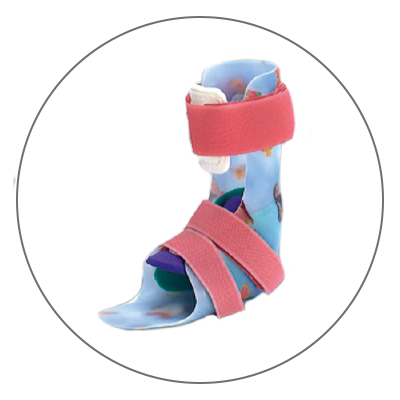 Ankle-Foot Orthoses (AFO)
Designed to provide support and proper joint alignment of the foot and ankle, assisting in instances of muscle weakness and helping protect the foot and leg.
Knee Orthoses (KO)
Designed to off-load painful areas or aid in the stability of the knee joint secondary to injury, postoperative reconstruction, meniscus damage, or for preventative protection.
Knee Ankle-Foot Orthoses (KAFO)
Designed to provide support and proper joint alignment of the knee, foot and ankle, assist or substitute for muscle weakness and joint instability, and protect the lower limb.
Hip Knee Ankle-Foot Orthoses (HKAFO)
Designed with the same components as a KAFO with the addition of a lockable hip joint and a pelvic band.
Request a Free Evaluation
Want an expert opinion as to whether your child will benefit from a lower limb brace? Schedule a free evaluation with a Hanger Clinic Pediatric Specialist.
What to Expect on the Lower Limb Bracing Journey
Upon receiving a prescription for the brace from your child's healthcare provider (pediatrician, neurologist, orthopedic surgeon, etc.), you will schedule a free evaluation with your nearest Hanger Clinic Pediatric Specialist.
The orthotist will provide you with education and information on the process for obtaining bracing for your child. The initial evaluation will include an analysis of your child's movement abilities, and where appropriate, their walking patterns. Next, we will take an impression and gather the appropriate measurements for your child's brace. During this appointment, you will likely have the opportunity to help design the appearance of the orthosis. Your clinician will send the impression(s), measurements, and scans (if applicable) to a design center where the brace will be fabricated.
At the same time, the office staff will work to verify insurance coverage, with the goal of providing you with an understanding of your out-of-pocket costs (due to your deductible and coinsurance).
Your family will return to the clinic in 3-6 weeks for fitting and delivery of the orthosis. At that time, the orthotist will evaluate and adjust the brace(s) to ensure a comfortable fit and proper function. They will review the break-in schedule and cleaning instructions, show you and your child how to put them on and take them off, and schedule necessary follow-up appointments. Some more complicated cases may require more than one fitting appointment.
Your family will return to assess the brace fit and address any concerns you may have. Your clinician will also take the time to answer questions and recommend a schedule for follow-up appointments.
Every 9-15 months, your child will need to be seen to assess the fit and function of their braces and to determine if they need replacements due to growth or other factors.



Insurance Coverage for Lower Limb Bracing
Lower limb braces are a covered benefit under many insurance plans. Hanger Clinic is in-network with more than 2,500 insurance providers, and we will take great care in checking your insurance coverage plan for your child's prescribed lower limb braces. If we are not in-network with your provider, we are still happy to provide your child with bracing and will work closely with you to find alternative financial solutions.
Once you provide us with your insurance information, our experienced office staff will verify your benefits with your insurance carrier to determine the amount of coverage available. If needed, our staff will also obtain prior authorization from your insurance company. Our office staff will then provide you with an estimate of your portion of the costs prior to providing orthotic devices to your child.
Please note–a prescription is required.
Latest Updates
Subscribe to stay up-to-date on our latest posts.
View All