Pediatric Prosthetics
Our approach to pediatric prosthetic care is centered on the idea that no two children are alike.
Find A Specialist
Hanger Clinic Pediatric Prosthetic Specialists
Hanger Clinic Pediatric Prosthetic Specialists works with children ranging in age from infancy to young adulthood. We specialize in upper and lower limb prosthetics designed to address the unique needs of each child and help them adapt to new and changing environments, gain independence, and restore function and mobility. Our clinical experts work closely with you, your referring physician, and your loved ones to help your child achieve the best possible outcomes today and into the future.
Prosthetic Overview
We offer both upper and lower limb prosthetic solutions for children with congenital limb deficiencies, traumatic amputation, or elective amputations associated with cancer treatment.
In addition to traditional prosthetics, we frequently develop unique activity-specific prosthetic devices, including custom adaptations for musical instruments, sports, and more.
What to Expect on the Pediatric Prosthetic Journey
Each child's journey is unique, but there are some baseline recommendations and expectations:
Families should engage with a clinical prosthetist as soon as they feel ready to better understand available options and any associated timelines.
It is often reasonable for infants and very young children to be fit with a passive prosthesis right away, so the prosthesis is incorporated into their developing body image and daily life. This may also help children socially as they begin interacting with their peers.
Limited communication skills, combined with rapid rates of physical growth, mean that children require frequent office visits and more careful observation of their progress from month to month.
Children should be evaluated by their clinician every six months, with careful monitoring by a parent or caregiver in-between visits. Most children require a new socket and other prosthetic modifications at least once a year.
Developing a routine is useful in promoting the consistent use of a prosthesis.
It is important to work with a physical/occupational therapist who specializes in children and their developmental stages. Consult your prosthetist for their recommendation for an experienced therapist.
Explore Prosthetic Solutions & Components
We create custom prosthetic solutions for all levels of limb loss using clinically-appropriate technology and innovative components.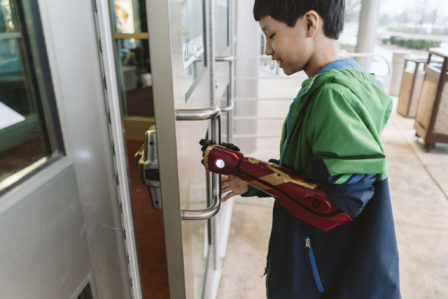 Request a Free Evaluation
If you have questions or are ready to talk about prosthetic options, schedule a consultation at a Hanger Pediatric Prosthetic Specialist near you.