Cameron Clapp: Triple Amputee Inspires Others With His Incredible Story of Survival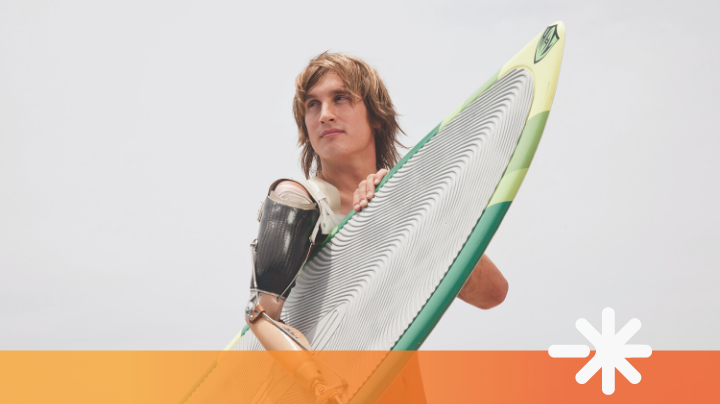 Request a Free Evaluation
If you or someone you love are looking for personalized care following amputation, get in touch with a board certified prosthetist at a Hanger Clinic near you.
After being struck by a train and instantly losing both legs above-the-knee and his right arm at the shoulder, Cameron Clapp was told by doctors he would never walk again. Drawing on his will to survive and to truly live, he proved everyone wrong by walking independently with two prosthetic legs just five months after the accident. Now, Cameron travels the country sharing his incredible survival story with fellow amputees, teenagers, and members of the medical community.
Cameron Clapp's journey–or metamorphosis, as he calls it—began at age 15.
On September 15, 2001, Cameron, his twin brother, and some friends set up a memorial to commemorate the victims of the 9/11 terror attacks. To cope with their emotions following the tragedy, the group began to drink heavily. Later that evening, Cameron strayed from the group and fell asleep on nearby railroad tracks, where he was hit by a freight train. When he finally awoke, he was in the hospital and instinctively knew his legs and right arm were missing, having endured a traumatic amputation that most people would not have survived.
Drawing from Experience
Cameron's journey with limb loss was not an easy one. He quickly learned to rely on a wheelchair for mobility but knew deep down he wanted to get back to his active lifestyle. Little did he know that a few months after his accident, fate would step in. He met Hanger Clinic's Vice President of Lower Extremity Prosthetics, Kevin Carroll, at a Hanger Clinic event in 2002. Along with his team, Kevin developed a program that included intermediate tasks that helped Cameron learn to walk independently. By starting with stubbies (short legs without knee joints) and slowly graduating to more advanced prosthetics, Cameron gradually built the strength to walk again on his own. He now uses two microprocessor-controlled legs in his daily life.
"I had to find my own way. It was tough at first, because I didn't have the right mindset. It took about two years until I was fully confident and proficient in prosthetics," he said.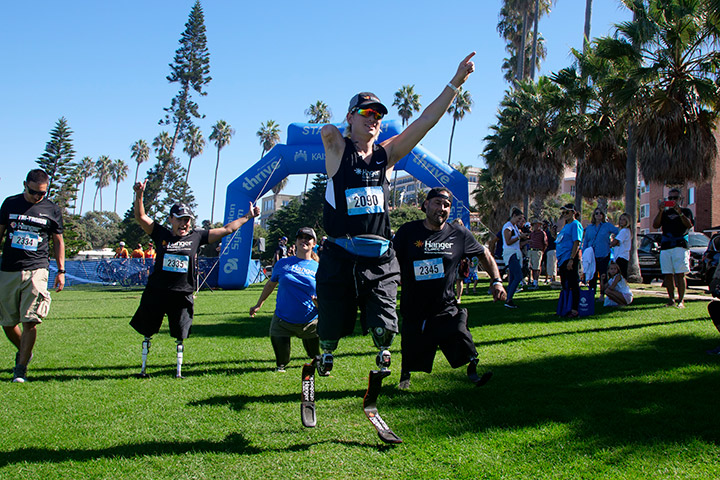 Nothing Stands in Cameron's Way
Prior to his accident, Cameron enjoyed an active lifestyle in California, and he worked hard to continue doing the things he loved.
In 2002, Cameron participated in the University of Central Oklahoma's Endeavor Games. Since then, he has won numerous gold and silver medals across many different sporting competitions, ranging from surfing, to triathlons, to track and field. In 2015, he competed in the Paralympic Trials for Track and Field, an amazing feat given his incredible journey.
Helping Others​
Now in his 30s, Cameron has made it his mission to empower other amputees that may be facing the same uncertainty he once faced. His passion for helping others is even driving his career path. Today, Cameron is a Community Care Coordinator at Hanger Clinic, a patient advocate, and an Amputee Coalition Certified Peer Mentor.
Having worked with countless bilateral amputees at Camp No Limits, Endeavor Games, Hanger Clinic's Bilateral Above-Knee Bootcamp, and other amputee conferences, Cameron understands the importance of having a good support team and wants to help amputees navigate their new way of life.
"When I meet a new amputee at a camp or an event, I congratulate them for surviving and welcome them to the 'club.' It's about reassuring them that as tough or difficult as it might seem, there are people by their side to help. It's not the end of the world; it's a new beginning."
In addition to his efforts as a patient advocate and mentor, Cameron is also a motivational speaker and an actor who has appeared in HBO's "Carnivàle," "My Name is Earl," "Stop Loss," and "Workaholics."
Honored for His Service
From early on, Cameron has been a true example of resilience, and his efforts have not gone unnoticed.
In November 2005, he was honored with a Shining Star Award for his outstanding volunteerism, and in 2015 he received the Mohamed Amin Award for Humanitarian Service.
Latest Updates
Subscribe to stay up-to-date on our latest posts.
View All