NBC Nightly News Features U.S. Army Veteran and Hanger Clinic Patient Dan Nevins' Journey to Personal Healing
Request a Free Evaluation
If you or someone you love are looking for personalized care following amputation, get in touch with a board-certified prosthetist at a Hanger Clinic near you.
In 2004, while serving in Iraq, U.S. Army veteran Dan Nevins lost both legs below the knee when an IED detonated beneath his vehicle. During his rehabilitation, Dan discovered the power of yoga and meditation, which helped him heal from the invisible wounds of war. On November 9, NBC Nightly News with Lester Holt featured Dan's personal journey to healing in the "Those Who Serve" segment and spotlighted how he's using his experience to pay it forward.
Watch the Full Story
Dan Nevins spoke with NBC National Correspondent Catie Beck about discovering yoga and meditation, and how they have transformed his life.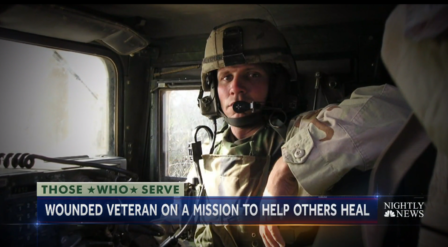 The Physical & Invisible Wounds of War
Having lost both his legs below the knee in combat in Iraq in 2004, Dan knows what it's like to endure wounds both physical and emotional. When his accident happened, Dan knew right away he didn't want his disability to define him. Instead, it was up to him to define what the rest of his life would be like. With the help of his Hanger Clinic prosthetist, Geoff Hemmen, he was able to get back on his feet with custom prosthetic devices and overcome his physical wounds of war for the first time. He was soon back to his active life, hiking, biking, playing golf, and even skydiving. What he didn't realize was that his invisible wounds were being pushed down further out of sight until they couldn't be suppressed any longer.
The Healing Power of Yoga
At a particularly low point in 2014, he took his first yoga class, which sparked a breakthrough that changed his life for the better. Now a Tier 3 Certified Baptiste Yoga teacher, Dan believes in the power of yoga and meditation to help people find healing and purpose. Yoga not only helped Dan cope with the invisible wounds of war but heal from them.
Paying it Forward
As a professional speaker, Dan is used to sharing his story with audiences around the world, but Saturday, November 7 was a first for him: he logged on to Hanger Clinic's virtual EmpowerFest event and taught an adaptive yoga and meditation class to attendees with limb loss and limb difference. His inspirational message of leadership, perseverance, resilience, and overcoming adversity was uniquely relevant to the EmpowerFest attendees, who also have physical challenges and differences that have impacted their lives.
Latest Updates
Subscribe to stay up-to-date on our latest posts.
View All