Kevin Breen: After Limb Loss, Father of Three Regains Independence with Custom Prosthetic Care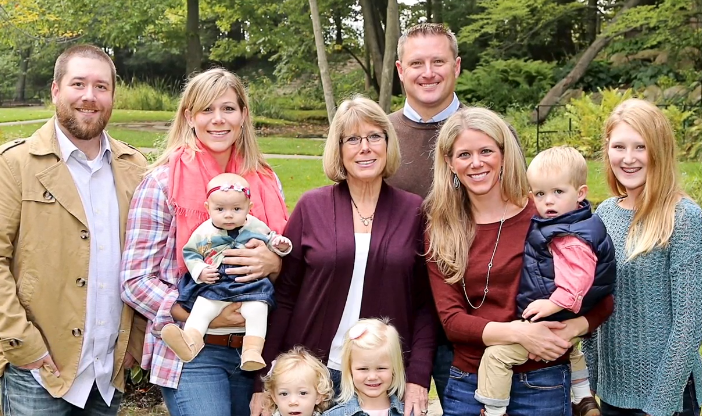 After strep throat led to sepsis and the amputation of four limbs, family man and water sports enthusiast Kevin Breen overcame many challenges to return to an active lifestyle.
The 2016 holiday season took an unexpected turn for a Michigan family when Kevin Breen, father of three, became ill the day after Christmas. Kevin came home early from work because he knew something wasn't right. What started as a severe sore throat had turned into mysterious abdominal pain. The pain and illness continued to get worse, so Kevin's wife Julie rushed him to the emergency room. At the hospital, his condition continued to deteriorate. Doctors explained that the strep virus had traveled to his abdomen, which led to sepsis and septic shock. Over the next two months, this rare complication led to amputations of both legs below-the-knee, his left hand, and parts of the fingers on his right hand.
Accepting the future and the will to stay positive
After his amputations, a team from Hanger Clinic visited Kevin in the hospital and educated him about what was possible and how he could regain his independence through prosthetic limbs. This introduction to a whole new world of terminology and prosthetic options was a lot to take in, but Kevin was encouraged and knew it was the best choice for him. "There was no doubt that I was going to use prosthetic limbs. I wanted to be able to walk and do stuff with my hands again," he shared.
While the Breen family was dealing with the emotional stress of their father's health condition, Kevin tried to remain strong and positive. "The way I handled this would forever affect the outlook of my kids. I needed to set a good example for them," Kevin said. Today, Kevin is grateful for his family and community, who provided their overwhelming support and gave him strength during recovery.
"Everything is a timeline in this journey"
After the amputation of his four limbs, there was a period of about eight weeks when Kevin's body needed to heal before he could be fitted for prostheses. As someone who had always been active and full of energy, losing his independence was the toughest part for Kevin. "The reliance on other people and my wife was pretty unbearable. You can't walk; you can't go to the bathroom; you can't shower, eat or even get water. It was frustrating, but everything is a timeline in this journey," he said.
"They came to my house. That meant a lot!"
During Kevin's recovery, the team from Hanger Clinic, including certified prosthetists with expertise in upper and lower limb technology, visited Kevin and his family at their home. They shared prosthetic options, recovery information and inspirational stories about adaptive sports and other athletes. "They laid out the options for me and answered all of our questions. How awesome is that? My wife and I were in the darkness. That meant a lot to us," he shared. To Kevin, the personal touch was an essential factor in choosing Hanger Clinic for his prosthetic care.
Adaptive sports – a source of confidence, health, and happiness
Before his amputations, Kevin knew he wanted to stay active and get back in the water. "Being a huge water fanatic, I told my wife while we were still in the hospital that I wanted to be able to wake surf again." On August 19, only six months after his amputations, Kevin was indeed back in the water, surrounded by family and friends. Everyone cheered as he used his custom-designed prosthetic legs to wake surf for the first time. "That was a pretty big milestone for me. I could do it again, and I knew I was going to get better." Kevin shared as he recalled those emotional moments.
Today, Kevin enjoys trying different adaptive sports and taking his wife and children with him to adaptive events. He has participated in the Endeavor Games, a multi-day adaptive sports competition, where he tried para-archery and shooting for the first time. He and his wife even learned how to scuba dive at an adaptive diving class.
Kevin says adaptive sports also helped restore his physical and mental confidence. He used to worry about tripping and falling in his prosthetic legs, but through adaptive sports, he has not only learned how to balance better on his prosthetic devices, but has also had the opportunity to observe and learn from other people with limb loss.
Kevin is certainly not shy about trying anything new, whether it's an adaptive sport or a task he needs to complete at home. The healing power of adaptive sports helps on the journeys of many people, and for Kevin this is just the beginning.
Different prosthetics for different needs
As Kevin pushes himself to try new things, he finds that he needs different prosthetic devices to accomplish various tasks. Working closely with Hanger Clinic, Kevin stays up-to-date on the latest prosthetic technology and the best devices for his lifestyle. He uses both a body-powered hand and a myoelectric hand that is controlled by signals in his muscles, and appreciates the freedom to switch between devices, depending on what each task or chore calls for.
Independence is possible. Keep trying!
With each passing year, Kevin feels stronger than ever, thanks to the support he receives from his family and friends and patient care team at Hanger Clinic. He feels blessed to be surrounded by an amazing wife and kids, and he has a community who continues to believe in him. "As we speak, I'm proud to say that I'm home by myself. My wife is at our cottage with the kids. I mowed the grass earlier today. I cook and I do laundry. You put in a lot of work. There is frustration between here and there, but with determination, you can do it," Kevin shared.
Kevin's advice to others is to believe that you can still do a lot on their own, despite some restrictions. "The unknown is pretty scary at first," he said, "you just don't know how you're going to do it, but trust me, you figure it out."
See Kevin on the TODAY Show
The Third Hour of TODAY highlighted Kevin and Julie Breen's unbreakable bond.
Request a Free Evaluation
If you or someone you love are looking for personalized care following amputation, get in touch with a board certified prosthetist at a Hanger Clinic near you.
Latest Updates
Subscribe to stay up-to-date on our latest posts.
View All