Above-knee (AK) limb loss (also called transfemoral amputation) refers to amputation or absence of the leg above the knee. Although local processes and surgical preferences may vary considerably from person to person, individuals with an amputation above the knee usually begin the prosthetic fitting process several weeks after surgery. As you begin your rehabilitation process, you will work with a prosthetist who is trained in the design, fabrication, and fitting of prosthetic limbs. It is important to talk to your prosthetist about your expectations and concerns so he or she can address your specific needs. Your prosthetist will work closely with your physician and rehab team to monitor your health and help ensure you are meeting your expected milestones.
Here is an overview of what to expect during your above-knee limb loss care journey.
Post-Op Limb Care
After your amputation, you may experience substantial swelling in your residual limb. Your doctor may prescribe a shrinker to help shape your residual limb and ensure a better fitting prosthesis in the weeks ahead.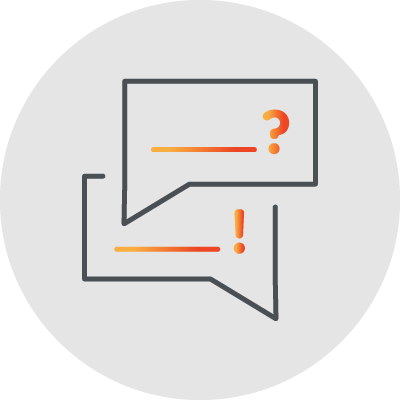 First Prosthetist Meeting
Your prosthetist will get to know you, evaluate your strength and mobility, and ask about your daily activities. He/she will listen to your goals and then apply their clinical expertise to design the right prosthesis, customized to your specific needs.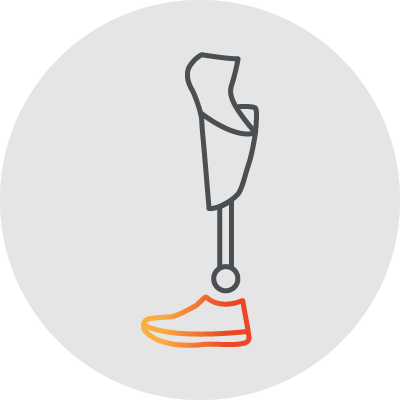 Initial Prosthesis
When your residual limb is sufficiently healed, you will be measured and fit with a prosthesis. The prosthesis you take home will be custom-made using materials most appropriate for your needs. Your prosthetist will teach you how to put on and care for your prosthesis and supplies.
Physical Therapy
Your physician, prosthetist, and/or physical therapist will help you learn how to use your prosthesis in your daily activities. Once you are comfortable with basic skills, you may be able to resume more advanced physical activities, such as walking up and down stairs, driving, and participating in sports or other and hobbies.
Follow-Up Care
As your limb changes, your prosthetist will continue to make adjustments to your prosthesis. This may include periodic replacement of the socket or replacing components as you increase your activity level. It is important to follow up with your prosthetist at least every six months to address any issues, especially as your residual limb is changing in size.
Creating Your Custom Above-Knee Prosthesis
An above-knee prosthesis (also called a transfemoral prosthesis) will typically consist of a custom-made socket, a knee, a pylon, a foot, and some means of suspending the prosthesis to the body. Your prosthesis will be individualized by creating a custom socket specific to your limb and choosing the most appropriate componentry for your lifestyle and needs.
Initial Prosthesis
The shape and size of your limb will change a great deal during the first six to twelve months after an amputation. Your prosthetist will help you manage these initial changes. This may include teaching you when to wear additional layers of socks over your limb or adding padding to the socket itself to tighten its fit. If the socket gets too loose even with these changes, it may be necessary to fabricate a new socket for you to address the change in volume.
In many instances, this initial prosthesis does not have a cosmetic covering, making it easier for the prosthetist to make changes to the socket or adjustments to the knee and foot alignment. Gait training, or learning to walk with your prosthesis, will begin with this initial prosthesis.
When the volume of your residual limb stops shrinking and you have reached a steady level of activity, it may be time to move to a definitive prosthesis.
Definitive Prosthesis
Using similar techniques, your initial prosthesis will be replaced with a more definitive device. While some people prefer the look of their prosthesis without a cosmetic cover, others may wish to pursue a cosmetic cover at this time. Creating a definitive prosthesis and adjusting its fit may require several visits and can take a few weeks to complete, in order to help ensure your comfort and functionality.
Depending on your activity level and use of your device, a prosthesis can last anywhere from two to five years. With children, the time frame is shorter, due to their continuous physical growth. It is important to remember that a prosthesis is a mechanical device that sometimes needs repairs and adjustments. Sometimes, single components can be repaired or replaced rather than creating an entirely new prosthesis.
Significant changes in weight can require adjustments to the socket or other parts of the prosthesis.
Component Considerations
There are distinct challenges that come with the absence of your anatomic knee and ankle joints. These include balance and stability issues as well as increased energy requirements. In many instances, these challenges may create the need for a more sophisticated prosthesis. Advanced prosthetic technology, like microprocessor-controlled knees, may be able to help.
Bilateral Above-Knee Limb Loss
The loss of both legs above the knee (also called bilateral above-knee amputation or BAKA) comes with its own unique set of challenges, but with hard work and dedication, walking again is a possibility. The common steps for rehabilitation are:
Begin physical therapy, daily stretching, conditioning and weight control to help strengthen and prepare your body for the next steps.
You may begin walking on short legs, also called shorties or stubbies, with special training feet. Starting here will help you improve your balance, learn to fall safely, and avoid injury from those falls.
Once you become comfortable on short legs, your prosthetist may gradually lengthen the legs to make you taller, allowing you to gain confidence at each stage.
Finally, you will transition to full-length legs with prosthetic knees and ankles/feet. However, most bilateral above-knee amputees (BAKAs) find that their short legs continue to be useful tools for some situations and activities.
Your recovery and rehabilitation will take time. Be patient with yourself and reach out for support when you need it. Peer support can be integral to the healing process and allows you to learn how others are overcoming obstacles and living their lives to the fullest. Connect with other bilateral above-knee prosthetic wearers through AMPOWER® or at one of our specialized events like the Bilateral Above-Knee Boot Camp or EmpowerFest.